Ready or not, The Purist – Part One and Part Two are available now on Amazon.com.
If you've got a hankering for a strange, almost-juicy, sci-fi ebook series that examines the relationship between Gods and their people…this one's for you.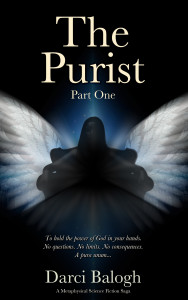 Start by downloading Part One and see where it takes you.
The Purist started with a dream, literally. I woke up in the middle of the night and stumbled to my computer to write down what was in my head. The Prologue and Chapter One of Part One are almost word-for-word what came from that strange, dream-induced writing session.
From that basic framework, the tale of a God who has been tapped for His power, and is losing His physical state because of it, emerged. Then each person, from each segment of the world that The Pure One has been born to save, came to life and the saga was created.
Part Two is available now, Part Three is available on pre-order and Part Four (the final of this saga) is due to release early fall of 2015.
– Darci